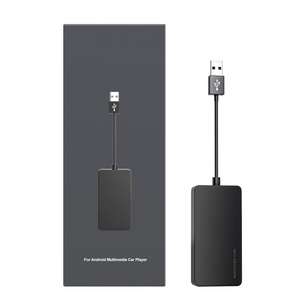 Add-On: Wireless CarPlay and Wireless Android Auto Module
Sale price Price $94.21 Regular price $0.00
Note: BOTH CarPlay and Android Auto are wireless via Bluetooth. Both can be connected via plug in as well.
How to use the module?
- Download essential software first! 
- Save the apk file to your flash drive, then plug in your flash drive to your Android Entertainment System, open file manager, tap "\" to go to your flash drive, press the apk file to install. After installing, you are set to connect your modules now. 
- Connect the USB male plug to your Android Entertainment System. Connect the other end to your phone's charging cable then to your phone. You will activate your CarPlay/Android Auto once you are connected. 
What is in the box?
- One CarPlay/Android Auto USB Module
Android Auto
- Google Assistant. Simply say, "OK Google," or long press voice control button on you steering wheel* to activate your personal assistant. 
- Navigation.Get real-time traffic alerts to avoid hazards, speed traps, and find the fastest route. Or take a break and find a bite along the way with Google Maps and Waze
- Call and Text. Google Assistant can allow you to make phone calls from you contact, read text aloud and send text back hands free! It also allows you to chat with friend on your favorite message apps like WhatsApp. 
- Stay Tuned. Ask your Google Assistant to queue up your favorite soundtrack from your favorite media apps like Spotify and Audiobooks by Audible
Check out all the compatible apps for your Android Auto
CarPlay
- Control through touch screen of your T-style system
- Activates Siri though touch, "Hi Siri" or press voice control on your steering wheel*
- Make calls, return missed calls, and listen voice mail with CarPlay. Just ask Siri.
- Listen to text and send text with Siri, so you never have to take your eyes off the road. 
- Navigate with Apple Maps or your favorite navigation apps on your iPhone with iOS 12
-Access all of your content from iTune, Apple Music and your favorite music apps like iHeart Radio, Pandora, XM Radio and others. Just ask Siri to play your favorite songs
Please check out all the compatible apps  for your CarPlay
*Voice control may not be available on every vehicle.