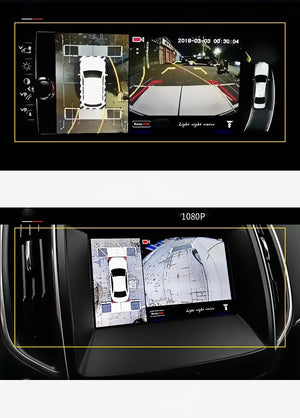 Add-on 3D 1080P 360 Bird View Camera
Sale price Price $249.00 Regular price $0.00
- Low light capability with seamless 2D image
- Loop recording and monitoring when vehicle is off. The system will automatically delete earliest recording and save new recordings. 
- Impact sensor. The system will save the clip when detecting an impact. 
- Active guideline on both front wheels and rear wheels. 
- Low battery protection. The camera will shut off when detecting battery is lower than 11V. 
- Waterproof. 
Installation
Front camera installs on the grill. 
Side cameras install under each mirror.
Rear camera installs above license plate. 
Drilling required for installation. 
Professional installation is recommended. 
2D Viewing Demo 
3D - 1080P 
-With all the features on 2D
-Night Vision capability. Capable of viewing under no light source. 
Customer Reviews
04/02/2020
Pablo S.

United States
Lexus LS 460
This unit is fantastic, everything you can ask for, the only problem, and a big one, was the bdo thing that I bought and plugged to port in car, wow what a nightmare, it totally screwed up computer system in car, it made the computers not be able to communicate and so the check engine light would not go on and so then the car would not start, it's been a nightmare and a costly one at that, the unit itself was awesome and made the car feel great inside I would highly recommend anyone to replace the original unit with this one but DO NOT plug that OBD into this car the computer system in this car is very intricate and vital