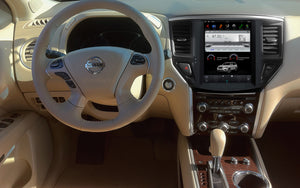 Nissan Pathfinder 2013 - 2020 10.4" Vertical Screen Android Radio Tesla Style
Sale price Price $473.37 Regular price $599.00
Explore our latest Tesla Style Android Radios for Nissan Pathfinder. Unique vertical screen, Android system, bluetooth handsfree calling & music, video playback and thousands of apps waiting for you to explore.
*The original 360 around view system is not retained on model 2016 and earlier. 
For SC9583:
OEM CD/DVD player and rear entertainment function is not retained if equipped.
Pathfinder S comes with following radio is compatible:
Fahrenheit might not be read correctly. The temperature will still be controllable. 
For PX6: 
Compatible with 2013-2017 pathfinders. OEM CD/DVD player plus rear entertainment are retained. 
Pathfinder S with factory radio like picture above is not compatible. 
Only supports Celsius. 
Description:
This Android radio will replace your current radio in your vehicle. It gives your vehicle a clean and neat look while giving you access to millions of Android apps and expanding your connectivities. At the same time, this Android radio retains most if not all of your vehicle's original features such as self parking and remote start. This Tesla style Android radio also serves as a platform for you to put on many add-ons to further expand your capability on the road. Some examples are HDTV, CarPlay & Android Auto module, portable DVD player, TPMS and more.
This Android radios is fully plug and play. It does not require any wiring or soldering. A set of complimentary Dash Removal Kit will be provided in the package.
Demo Video
Features:
Vehicle information.
Door open/close
Vehicle speed mph
Engine speed rpm
Low gas alert
Low tire pressure alert
Vehicle incline angle
Backup image (able to support up to 3 cameras like Front & Right side cameras)
Backup radar display
AC and entertainment control
AC and heat
Ventilated seat and heated seat
Steering wheel control ( volume, next/previous tracks)
FM/AM Radio
Play music from storage/USB drive
Screen mirroring of you phone both android & iPhone. (Only one can be mirrored at a time.)
Bluetooth calling / music (built in Mic but you can request an external one)
Accept external add-ons like CD player, digital TV, TPMS, Bird view 360 cameras CarPlay & Android auto module etc)

Run music apps from Google Play store, like Pandora and iHeart Radios.
Built-in GPS
Able to use any Navigation App online or offline.
Aftermarket Amplifier
Unit comes with four pre-amp output
Does not have dedicated subwoofer out but subwoofer can be added if your aftermarket Amp has the capability or use a LOC (line output converter) on a set of speaker wire then hook up sub amp then subwoofer.
Dedicated dash cam input.
It may need a USB drive to store recorded file depending on the dash cam you use.
Automatically stores your dash cam image to USB or on board storage.
Compatibility:
1. XM Satellite radio if it comes factory with your car.
You will either use Sirius app via Wi-Fi or purchase Commander Touch Module from Sirius to retain such feature.
2. Voice command.
You can download Google Assistant to retain voice control feature.
What is in the box?
Display
Main box
A bag of harness/wires with complimentary

Dash Removal Kit
What do you need?
A cell phone or tablet to read instruction while installing
A flash light in case the day gets dark
Recommended Accessories
Warranty
One (1) year warranty. We will fix, replace or refund if there is anything defective on the unit!
For details, please visit our warranty page.
Return Policy
30 days money back guarantee! If our product do not satisfy you, return it to us and we will fully refund you!*
For details, please visit our return policy page.
*Conditions apply
Technical Specification:
Operating System

 

Android

Version 4.4.4/7.1/8.1

Processors

CPU

Cortex A9 Quad-Core 1.6 GHz

MCU

PX3/PX6

 

Storage

 

64G/32G

 

Memory

 

2G/4G

 

Screen

Display

LCD Multi-Touch display with IPS technology

Resolution

2K

 

Navigation

GPS

UC221

Map

Google Map

 

Connectivity

Bluetooth

Calling and music

Wi-Fi

Connects to hotspot

MirrorLink

Both iPhone and Android

 

Media

Amplifier

TDA7388 IC 4 x 45W

Audio format supported

 

mp3, wma, ape, flac, aac and more

Video format supported

mp4, avi, wmv, rmvb, flv, mkv, mov, ts, 3gp, mpg and more

 

OEM Feature Retained

 

HVAC control

 

USB

 

Backup camera

 

Dash camera recording

 

Backup radar

 

OBD Information

 

Extra Connectivity

 

Extra USB input

 

Auxiliary input

 

Front and right side camera input
Customer Reviews
Nice Big Screen
I purchased this this b/c I really liked the bigger screen over the stock screen. My pathfinder is 2018 and does not offer CarPlay so I was excited about this unit having wireless CarPlay. Installation instructions were a little confusing but was able to figure out. If you have a good working knowledge of radio installation it shouldn't be a problem. After installation it took me a little while to figure out how to work everything but I think that was due to me being an apple user and this unit is android. The radio sounded great. I also liked that I could download Waze and not have to use my phone or find some way to set up my tablet. The few times I used Waze really came in handy. I would've like to seen the plastic come all the way down to the center console since all the radio and hvac controls are used on the new radio. So now you have buttons just sitting there with no use. I did however end up returning the unit for 2 reasons that were important to me. First you lose the ability to control the rear hvac from the front of the vehicle. Since I have small kids that can't reach the controls themselves, I needed to be able to control it from the front. Second you lose the factory usb plug located inside the console, that is the one I use for charging my phone. I did contact customer support on both of these issues. Was told there wasn't a way to control the rear hvac and no one makes an adapter for the factory usb for the pathfinder. Customer support did however help a lot with finding out these answers for me. All and all it was a great unit with the exception of those 2 things.
07/01/2022
Anonymous

United States
Best in dash upgrade ever....
I couldn't be happier with my purchase. Easy install...incredible versatility. Kids can watch a movie while I utilize the navigation, and we can even order food from it on the way home.