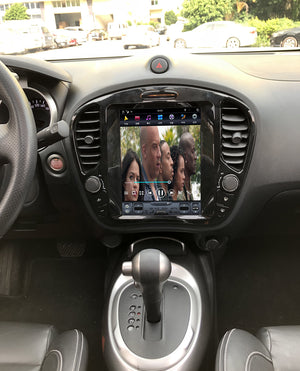 Nissan Juke 2010-2019 10.4" Vertical Screen Android Radio Tesla Style
Sale price Price $614.59 Regular price $0.00
Explore our latest Tesla Style Android Radios for Juke. Unique vertical screen, Android system, bluetooth handsfree calling & music, video playback and thousands of apps waiting for you to explore. 
PX6 Fully Loaded comes with built-in Wireless CarPlay/Android auto, DSP, bluetooth 5.0 and voice command.

G6 Fully Loaded comes with built-in wireless CarPlay/Android Auto, DSP, bluetooth 5.0 and voice command. 
It also has HDMI output and are AHD backup camera compatible. 
Description:
This Android radio will replace your current radio in your vehicle. It gives your vehicle a clean and neat look while giving you access to millions of Android apps and expanding your connectivities. At the same time, this Android radio retains most if not all of your vehicle's original features. This Tesla style Android radio also serves as a platform for you to put on many add-ons to further expand your capability on the road. Some examples are HDTV, CarPlay & Android Auto module, portable DVD player, TPMS and more.
This Android radios is fully plug and play. It does not require any wiring or soldering. A set of complimentary Dash Removal Kit will be provided in the package.
Demo Video
Features:
Vehicle information.
Door open/close
Vehicle speed mph
Engine speed rpm
Low gas alert
Low tire pressure alert
Vehicle incline angle
Backup image (able to support up to 3 cameras like Front & Right side cameras)
Backup radar display
AC and entertainment control
AC and heat
Ventilated seat and heated seat
Steering wheel control ( volume, next/previous tracks)
FM/AM Radio
Play music from storage/USB drive
Screen mirroring of you phone both android & iPhone. (Only one can be mirrored at a time.)
Bluetooth calling / music (built in Mic but you can request an external one)
Accept external add-ons like CD player, digital TV, TPMS, Bird view 360 cameras CarPlay & Android auto module etc)

Run music apps from Google Play store, like Pandora and iHeart Radios.
Built-in GPS
Able to use any Navigation App online or offline.
Aftermarket Amplifier
Unit comes with four pre-amp output
Does not have dedicated subwoofer out but subwoofer can be added if your aftermarket Amp has the capability or use a LOC (line output converter) on a set of speaker wire then hook up sub amp then subwoofer.
Dedicated dash cam input.
It may need a USB drive to store recorded file depending on the dash cam you use.
Automatically stores your dash cam image to USB or on board storage.
Availability
4G + 32G with Android 8.1
Handling Time
For Android 4.4.4 units, please allow 3 business days of handling time.
For Android 7.1 units, please allow 5 business days of handling time as the system is custom made.
Compatibility:
Please send us a picture of your factory radio to customerservice@rhinoradios.com before purchase. 
What is in the box?
Display
Main box
A bag of harness/wires with complimentary

Dash Removal Kit
What do you need?
A cell phone or tablet to read instruction while installing
A flash light in case the day gets dark
Recommended Accessories
Warranty
One (1) year warranty. We will fix, replace or refund if there is anything defective on the unit!
For details, please visit our warranty page.
Return Policy
30 days money back guarantee! If our product do not satisfy you, return it to us and we will fully refund you!*
For details, please visit our return policy page.
*Conditions apply
Technical Specification:
For G6
Operating System

 

Android

11

Processors

CPU

quadcore Cortex-A73 2.0GHz + quadcore Cortex-A53 1.8Ghz

 

MCU

G6

 

Storage

 

64G / 128G eMMC FLASH

 

Memory

 

4G / 8G LPDDR4X

 

Screen

Display

LCD G+G Multi-Touch display with IPS technology

 

Resolution

10.4" / 12.1": 1024 x 768. 11.8" / 13.6" / 16": 1920 x 1080. 13": 1600x 1200

 

Navigation

GPS

GPS / Beidou / GLONASS

 

Map

Google Map / IGO / SYNGIC

 

Connectivity

Bluetooth

Bluetooth 5.0 Supports aptX hi-res Audio, OBD, CarPlay, and multiparty call

 

Radio

SI4745

 

4G Network

LTE-FDDD: B1/3/5/7/8/20/28

WCDMA: B1/2/5/8

GSM: 850/900/1800/1900MHz

 

Wi-Fi

2.4G+5G 802.11 a/b/g/n/ac

 

USB

3, supports dash cam recording.

 

RCA

AHD 1080 and CVBS

 

Media

Amplifier

TDA7850 IC 4 x 45W

 

Audio format supported

 

mp3, wma, ape, flac, aac and more

Video format supported

mp4, avi, wmv, rmvb, flv, mkv, mov, ts, 3gp, mpg and more

 

OEM Feature Retained

 

HVAC control

 

USB

 

Backup camera

 

Dash camera recording

 

Backup radar

 

OBD Information

 

Extra Connectivity

 

Extra USB input

 

Auxiliary input

 

Front and right side camera input
Operating System

 

Android

Version 4.4.4 / 7.1

Processors

CPU

Cortex A9 Quad-Core 1.6 GHz / 1.8GHz

MCU

PX3

 

Storage

 

64G

 

Memory

 

2G

 

Screen

Display

LCD Multi-Touch display with IPS technology

Resolution

1280 *760 / 1280 * 800

 

Navigation

GPS

UC221

Map

Google Map

 

Connectivity

Bluetooth

Calling and music

Wi-Fi

Connects to hotspot

MirrorLink

Both iPhone and Android

 

Media

Amplifier

TDA7388 IC 4 x 45W

Audio format supported

 

mp3, wma, ape, flac, aac and more

Video format supported

mp4, avi, wmv, rmvb, flv, mkv, mov, ts, 3gp, mpg and more

 

OEM Feature Retained

 

HVAC control

 

USB

 

Backup camera

 

Dash camera recording

 

Backup radar

 

OBD Information

 

Extra Connectivity

 

Extra USB input

 

Auxiliary input

 

Front and right side camera input